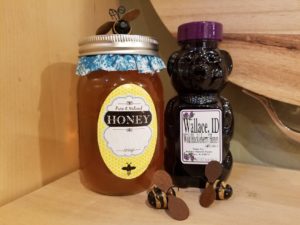 The awesome thing about other peoples vacations, are the wonderful little treats they bring back for you. Every year my neighbors travel to Wisconsin to spend time at the family cabin, and were kind enough to pick up some local honey for me. DELICIOUS!!! I wish I had a more refined palate and could tell you I tasted a hint of Wisconsin with a fruity aroma of something something. I can't. It just tastes like fantastic honey and I am planning on hiding it at the back of the cupboard so I don't have to share. I might share it with Rachael. She could always taste the subtle hints of the different areas. I wish I could tell you more about this particular jar, such as what farm it came from or what plants the bees had access to, but all it says is "Honey". I can confirm it is honey… so there!
The next gift of honey came from my mother in law. I was quite envious of her trip. She hoped in the car with her friend and said "See ya!!"  They drove off into the sunset on a wild adventure of "Let's See Where The Car takes Us." They headed south towards Santa Fe from California, and towards the end of the trip found themselves in Idaho. Along the way they stopped in many quaint little unknown towns, as well as some very popular and spectacular landmarks. It was in Wallace Idaho that they picked up a bear jar of Wild Huckleberry Honey, as well as a few cute little wooden bees to make me smile. I know it's cheating because it says it right on the container, "Wild Huckleberry Honey", but I will tell you I fully enjoyed the oh sweet and dreamy huckleberry.
This year I will make it a point to find some fun recipes to include the different varieties of honey that I have been acquiring. It should make for a very fun holiday season.