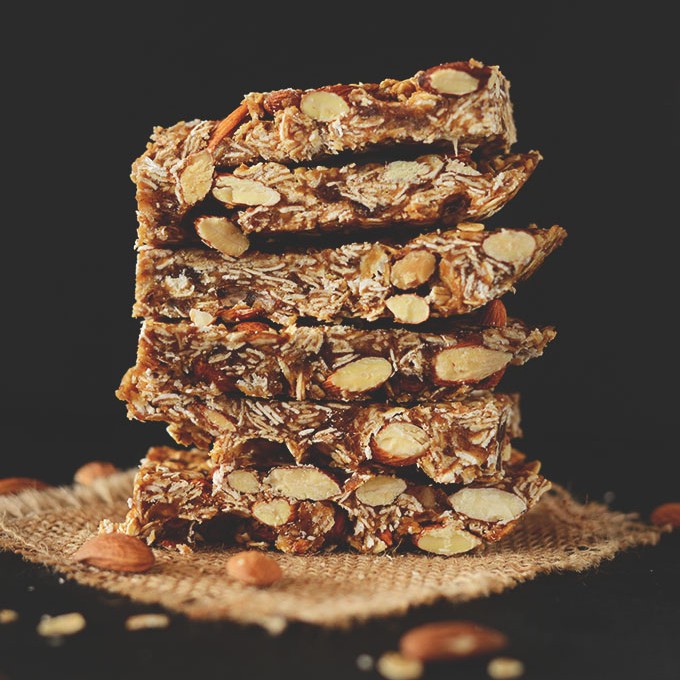 Our friend Terri, future recipient of one of our hives, tested a wonderful granola bar recipe with honey as a major ingredient. She found this tasty treat at the Minimalist Baker Website. It was a huge hit with her family, and I would love to give you my opinion, but as I said It was a huge hit with her hubby and son, so I didn't get any. Hahaha. Next time I will be sure to be there while she bakes.
Ingredients
1 cup packed (200 g) dates, pitted (deglet nour or medjool)*
1/4 cup (84 g) honey (or sub maple syrup or agave for vegan option)
1/4 cup (64 g) creamy salted natural peanut butter or almond butter
1 cup (112 g) roasted unsalted almonds, loosely chopped
1 1/2 cups (135 g) rolled oats (gluten free for GF eaters)
optional additions: chocolate chips, dried fruit, nuts, banana chips, vanilla, etc.
Instructions
Process dates in a food processor until small bits remain (about 1 minute). It should form a "dough" like consistency. (Mine rolled into a ball.)
Optional step: Toast your oats in a 350 degree F (176 C) oven for 15-ish minutes or until slightly golden brown. Otherwise, leave them raw – I just prefer the toasted flavor.
Place oats, almonds and dates in a large mixing bowl – set aside.
Warm honey and peanut butter in a small saucepan over low heat. Stir and pour over oat mixture and then mix, breaking up the dates to disperse throughout.
Once thoroughly mixed, transfer to an 8×8-inch baking dish or other small pan lined with plastic wrap or parchment paper so they lift out easily. (A loaf pan might work, but will yield thicker bars.)
Press down firmly until uniformly flattened – I use something flat, like a drinking glass, to press down and really pack the bars, which helps them hold together better.
Cover with parchment or plastic wrap, and let firm up in fridge or freezer for 15-20 minutes.
Remove bars from pan and chop into 10 even bars (or 9 squares). Store in an airtight container for up to a few days. I kept mine in the freezer to keep them extra fresh, but it isn't necessary.