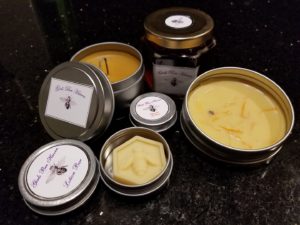 I am not a patient person, so beekeeping can be a bit trying for me. You can't rush a bee to do anything. Have you ever tried? Trust me, it does not end well for you or the bee. So I have accepted that there are some things I will have to wait for. For example, wax from our hives to make gifts. With Fall right around the corner, we were finally able to begin the rather long process of making the Christmas gifts for our family and friends. Gifts that would accompany the best honey they have ever tasted of course. Our plan was to make lip balm, lotion bars, candles, and paw balm for our friends with dogs. For those who are interested in making your own products or just want to see how we made them I have written a few How To posts.
I will say the process was long and hard, but doing it with Rachael certainly made it a lot of fun. We spent a lot of time goofing around and laughing. It is good she was laughing because I think we made a bit of a mess of her counters and floors. Lessons learned. The biggest lesson is to never let your pots of wax cool outside. We had a few thousand bees buzzing all around her porch trying to get their share of the sweet honey filled water. YIKES! Thank golly for bee suits! All in all it was a huge success.
This year we were only able to get a small about of honey from only one of our colonies. With the additional wax from our beekeeper friend Richard, we were able to put together a wonderful little gift basket for our friends and family. I think that it was by far one of best gifts I have ever given. Rachael and I had put a lot of time, effort, and love into those bees and it meant a lot to us to be able to share that with our family and friends.
Below is the link to the process we used to clean the wax. Enjoy!