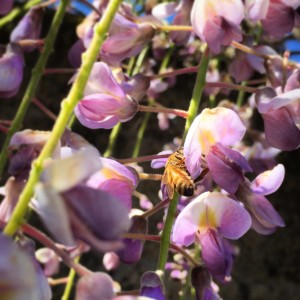 Today I am extremely nervous and excited. I am finally introducing my Book Basset readers to the Girls Bee Haven blog that Rachael and I have created together. WELCOME BOOK BASSET PEEPS! They have been hearing for the past year about our plans to become beekeepers, along with all the other craziness of my life. Right now this blog is small, but it will grow fast. Rachael (AKA My partner in crime) and I are two peas in a crazy pod. Our poor hubbies are doomed to a life of constant insanity. I think we make them really tired. If you want to start from the very beginning. you can read about how a few beers and a lazy day in the backyard resulted in an awesome idea by clicking here to read our first post from Feb 2015. If you click on the blog tab at the top of this page you can read about what we have been up to. Be sure to read some of our older posts by clicking on the teenie tiny link at the bottom that says older entries. I am wondering if that link can be any smaller. Like I said…this is a work in progress.
The big excitement of course is that in just three days we will be getting our first bees. All the farm visits, beekeeping classes, and of course Youtube watching has finally brought us to this moment. On Thursday at 6:30pm the wonderful staff at Bee Kind will hand over to us a box of beautiful bees. Bees that we will put in our car and drive home with. We will be trapped in a car with a few thousand bees…hmm…there's a thought for you. I will have my EpiPen handy. I wonder if driving with a bee hat and veil on is illegal. I am sure it has been done around here before.
Well everyone… enjoy the site, look around and let us know what you think. Be sure to share this with your all of your friends (Really! I mean it. All of your friends. Even the one that has yet to return your Twilight movies that you loaned them 2 years ago…ya..even that one) as well as "Like" us on Facebook (click here to visit our Facebook page), follow us Twitter @girlsbeehaven and also HAVE A WONDERFUL DAY!!!