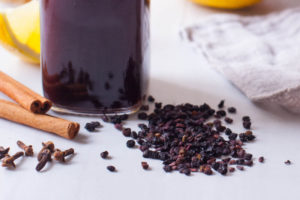 For those of you who are fighting the flu season like we have in this house. This is an easy and very effective immunity boosting home remedy. I myself believe its the raw honey that really makes the difference, but I might be biased. This is a wonderful recipe that we found on EatingRichly.com. I will admit, I was drawn in by the beautiful photography! Please note that elderberry syrup is NOT SAFE FOR BABIES. Please follow the dosage guidelines listed on the site for those 2 and up.
How to make Elderberry Syrup:
Put dried elderberries, cinnamon sticks, fresh ginger, whole cloves and half a lemon in the Instant Pot.
Add 4 cups filtered or bottled water.
Close the Instant Pot with the valve in the "SEALING" position, then cook on manual pressure for 10 minutes.
Do a quick pressure release, remove the lid, and set to "SAUTE"
Let it boil for about 10 minutes until the liquid is reduced by half.
Pour through a strainer, mashing on the berries with a spatula until all the liquid is released.
Let cool to 115 degrees F or less (to keep from overheating the honey) and stir in 1 cup of raw honey.
Keep in a jar or bottle in the fridge.